Open up the Change application and tap on Prices tab. From here you can pick any cryptocurrency that you'd like to purchase or sell. Next, choose the Sell button to continue to create a Stop Order.

In the upper-right corner of the screen you'll see the option Market Order. Simply tap on this option to view the full list of order types: market orders, limit orders, and stop orders. Select Stop Order and proceed to the next screen.

Next, specify the maximum price per coin that you want to sell at - the current mid-market price for that asset is displayed above the key-pad. Tap Next and continue.

Lastly, enter the amount of cryptocurrency that you're willing to sell. You'll need to ensure your balance is high enough to make the sale.

Proceeding to the next screen will allow you to confirm your Stop Order and return to your portfolio.

What happens to my balance?

Creating a Stop Order will immediately lock your balance for the amount of that order. You can still view how much of a particular asset (including Euro) that you own from the portfolio screen; however, you cannot invest that balance until the Stop Order is canceled or filled.


Important: Please note that limit orders will not be executed at the mid-market price but will be executed when the set price reaches the current ask price (for buying) or bid price (for selling). Ask and bid prices are the actual available price on the market.
Therefore, we recommend you to set the target price slightly higher for sell orders and lower for buy orders.
Stop Order will be filled at or below the price you enter - creating a small buffer may help ensure that rapid market drops still keep you in your target selling area.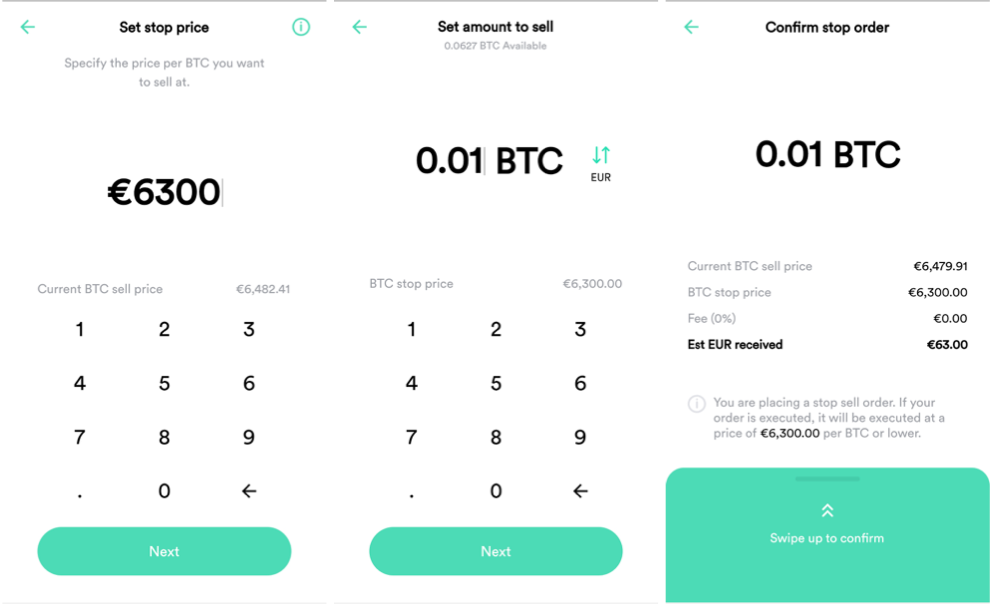 If you have any questions please write to us in the app or via support@getchange.com.